Welcome to Palm City Florida Real Estate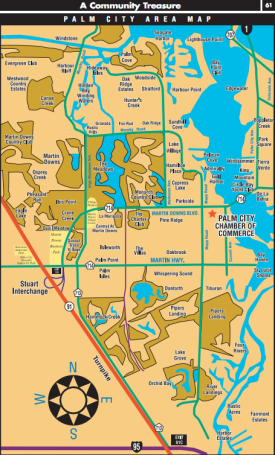 Palm City, Florida real estate is located in Martin County and is a census-designated place. These are areas that do not have a separate municipal government; however, in the physical sense they are similar to incorporated areas. According to the 2000 census, there were approximately 20,097 residents residing here – 6,301 families and 8,458 households. Palm City, Florida real estate includes 9,228 housing units. The racial makeup of this area is mainly White and includes African Americans, Asians, Hispanic and Latinos.
The median income for families in Palm City was $84,000 and for a household it was $67,546 as of 2007. The population was evenly distributed with those under 18 accounting for 21.1%, age 18 to 24 was 3.3%, 25 to 44 accounted for 22.5%, from 45 to 64 was 25.8% and over age 65 was 27.3%.
The children of Palm City, Florida real estate owners attend one of the following schools:
The following neighborhoods are a part of Palm City, Florida real estate:

Carmel

Copperleaf

Evergreen Golf Club

Fox Run

Grenada

Hammock Creek Preserves

Hammock Creek Sanctuary

Hidden Bay

Highland Reserve

Hunter's Creek

Islesworth

Lake Village, formerly The Crossings

La Mariposa

Number Streets

Old Palm City

Palm Isles

Sea Gate Harbor

St. Lucie Shores

Stratford Downs

Windstone